10 Outdoor Rugs You'll Love
The sun is out and we're approaching the official start to summer…and what a year it's been! Here at Warnike, we can't think of a better time to spruce up that outdoor space and start taking advantage of the beautifully warm weather.
Whether you have a small space or a large, open area, the first step to upgrading or creating an outdoor oasis is to define the area. An easy way to do that is with an outdoor area rug! They help establish boundaries, whether you're planning on adding a table, a seating area, or a simple walkway.
When considering an area rug for your outdoor space, you'll want to choose one made from durable materials designed to withstand the elements, such as nylon, polyester, and polypropylene. Some outdoor rugs are even made from bamboo! Regardless of which you choose, your outdoor rug should protect your feet from extreme temperatures when you step out onto your deck or patio. Below are 10 outdoor rugs we absolutely love for summer!
The Couristan Xanadu Puebla Celeste
This colorful rug is made of space-dyed polyester. Its structured flatwoven design makes it suitable for indoor or outdoor use. It also resists UV damage as well as mold, mildew, and moisture. Shop this Couristan rug now!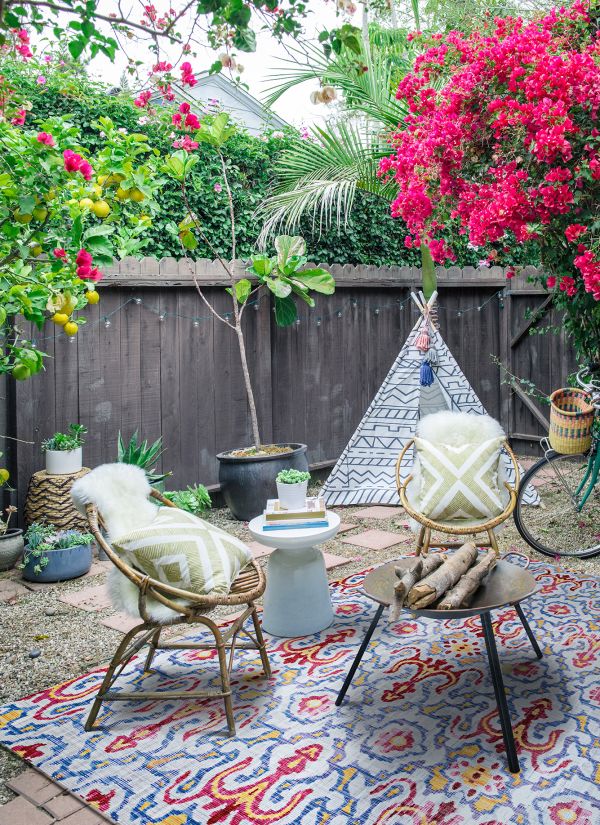 The Kaleen Matira Collection
Inspired by the beautifully breathtaking beaches of Bora Bora, this collection invokes images of soft white sand, crystal clear blue waters, and lush botanicals. Each rug in this collection is UV-resistant and handmade, constructed with 100% polypropylene. Complete with Kaleen's non-skid backing, this collection will serve as a perfect anchor to a magical getaway. Shop the collection here.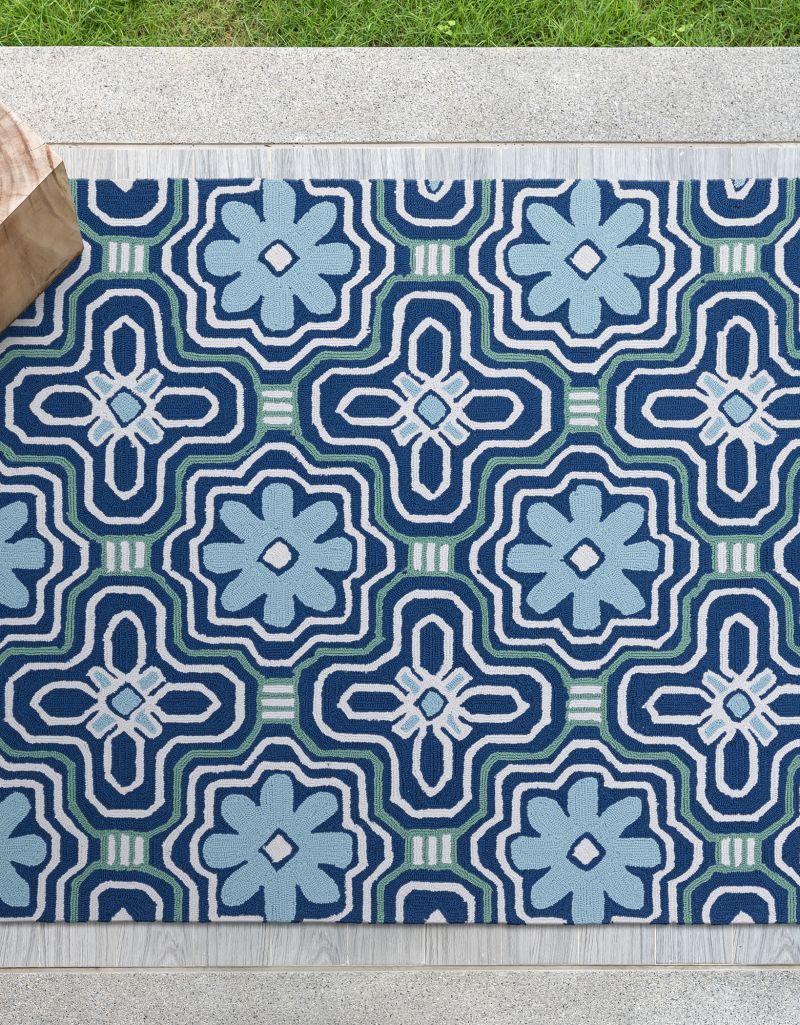 The Surya Rain Collection
This collection features coastal inspired designs to bring the beach right to your balcony or deck! With superior hand-hooked construction, these rugs have durability that cannot be matched elsewhere. Shop the collection here!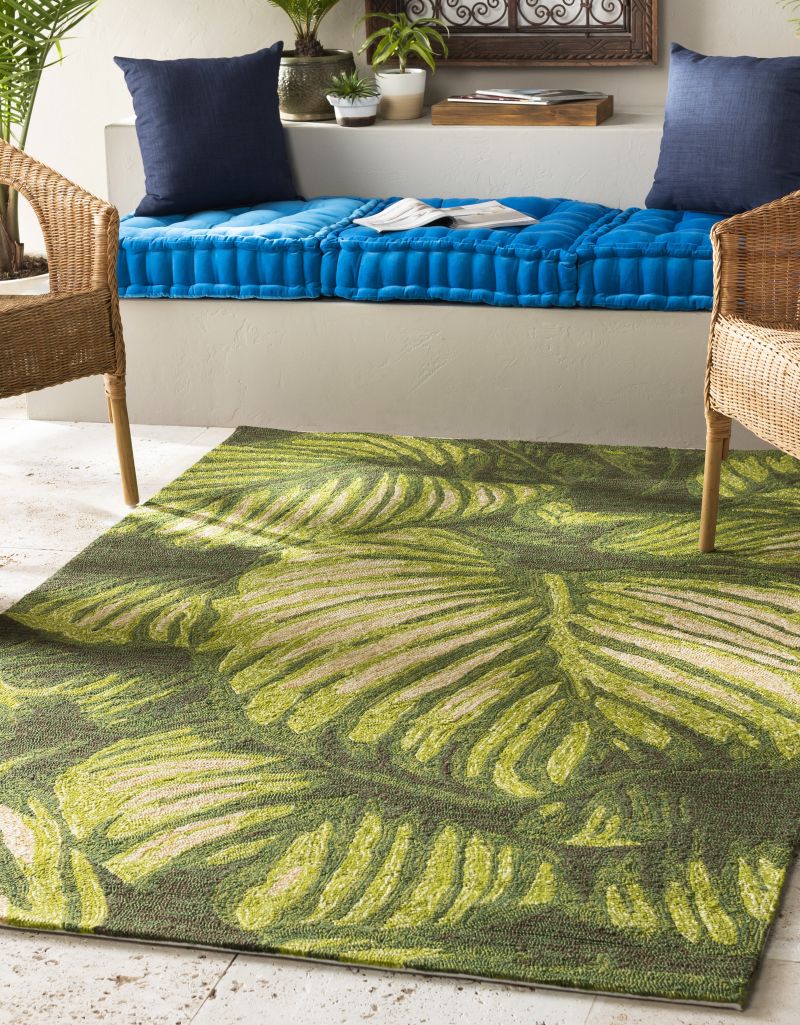 The Karastan Rugs Portico Collection
This collection of weather-resistant, flat weave rugs is made for both indoor and outdoor use and offers superior durability. Crafted from polypropylene, these rugs undergo extensive fade resistance testing and have an attractive sisal inspired aesthetic. We're particularly fond of the San Tropez, pictured below, which is inspired by luxurious trips to the French Riviera, with its ornately detailed border and beautiful medallion design.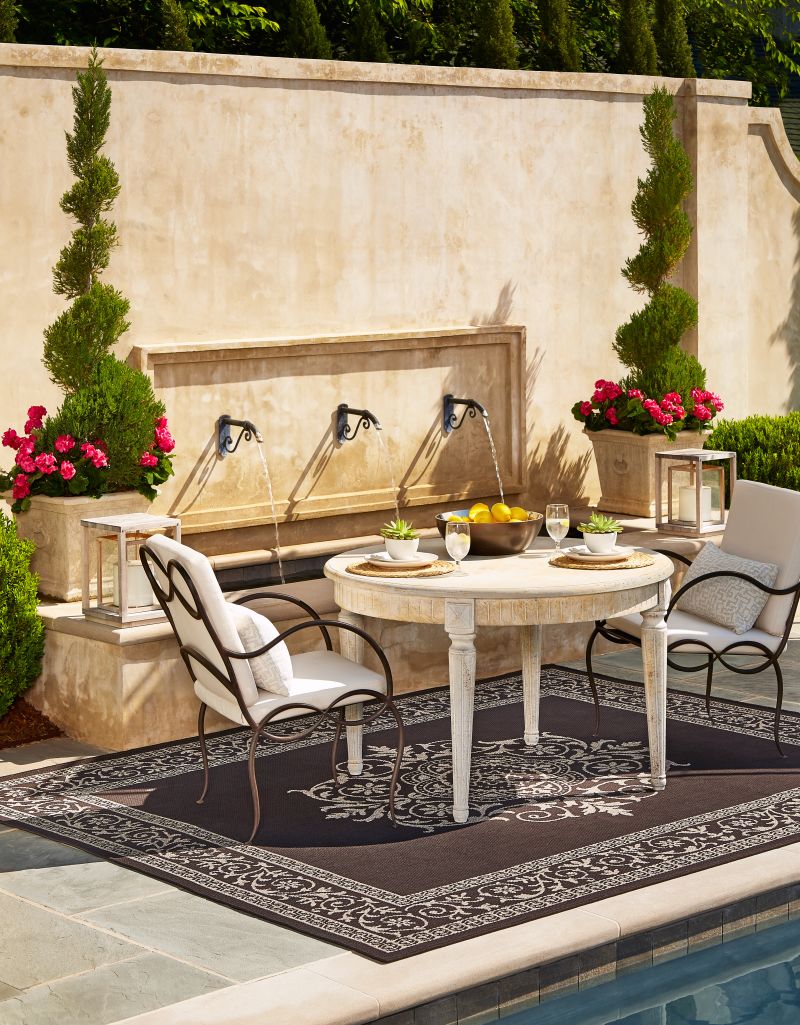 The Loloi Venice Beach Collection
This collection will brighten up your home, inside and outside, with a series of modern designs made of 100% polypropylene that are both UV- and mildew-resistant. Shop this collection here!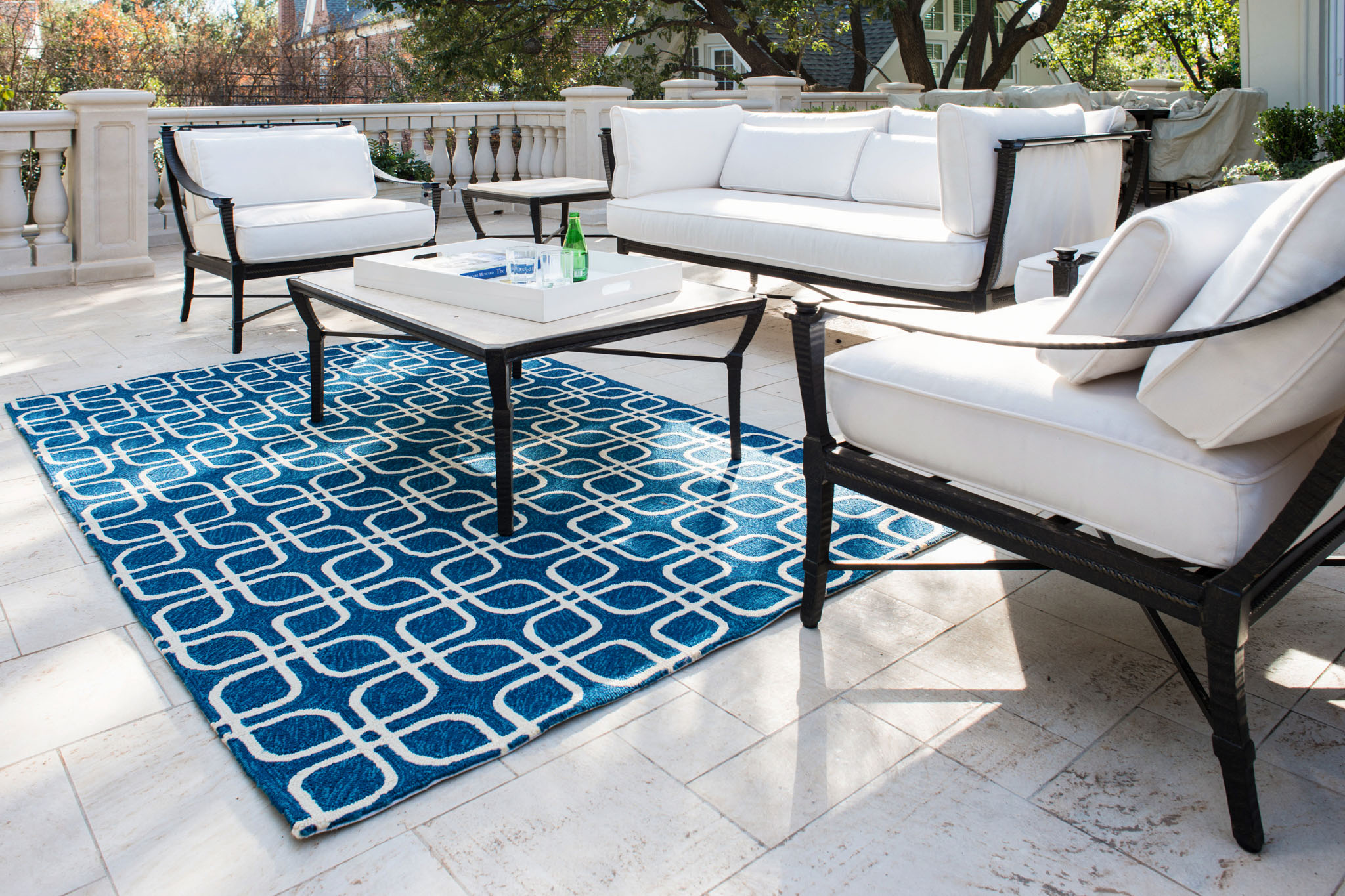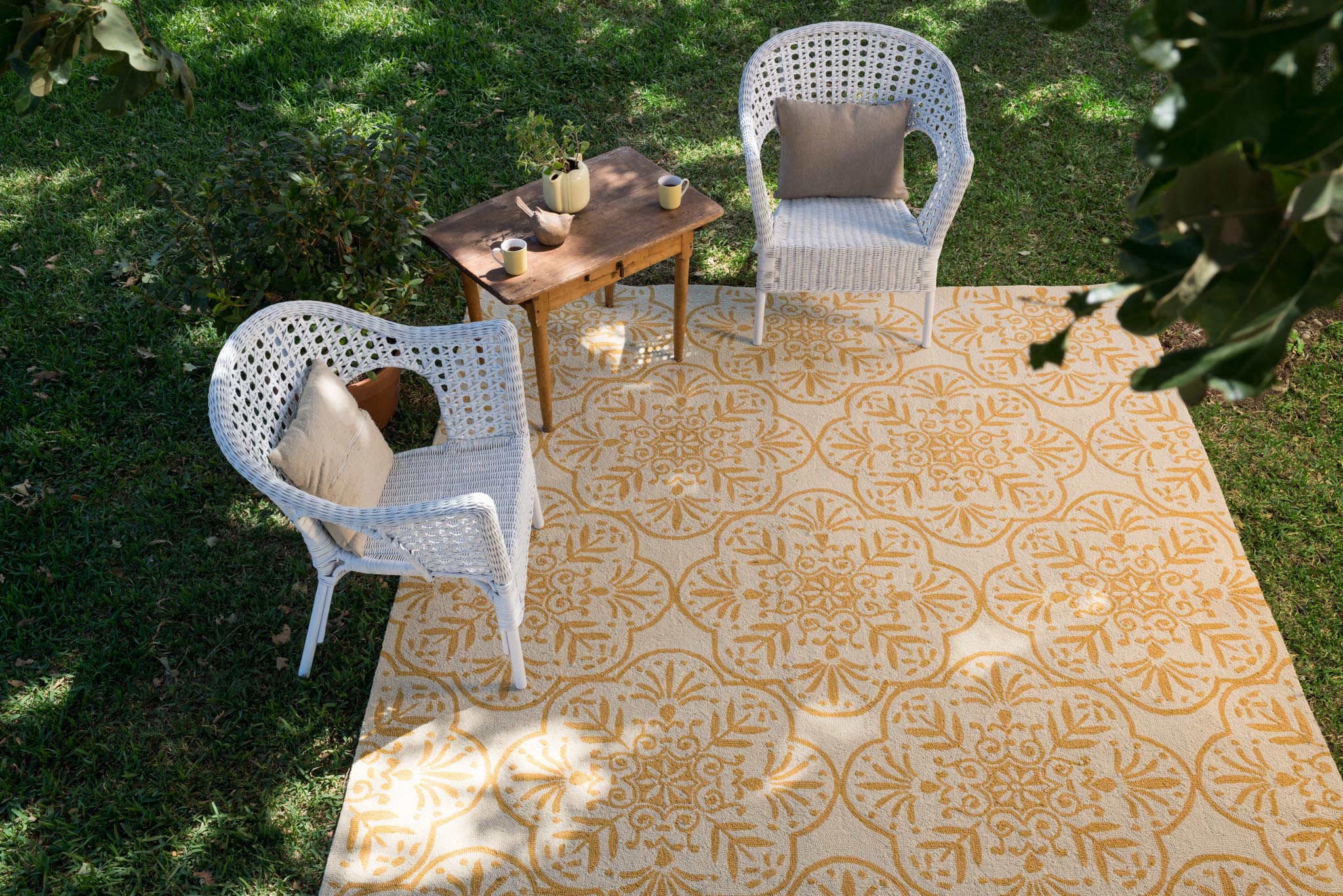 The Oriental Weavers Cayman Collection
This collection is made up of vibrant shades of tangerine, lime, Mediterranean blue, cherry red, charcoal, and bright strawberry pink. Bring a party to your patio with this collection today!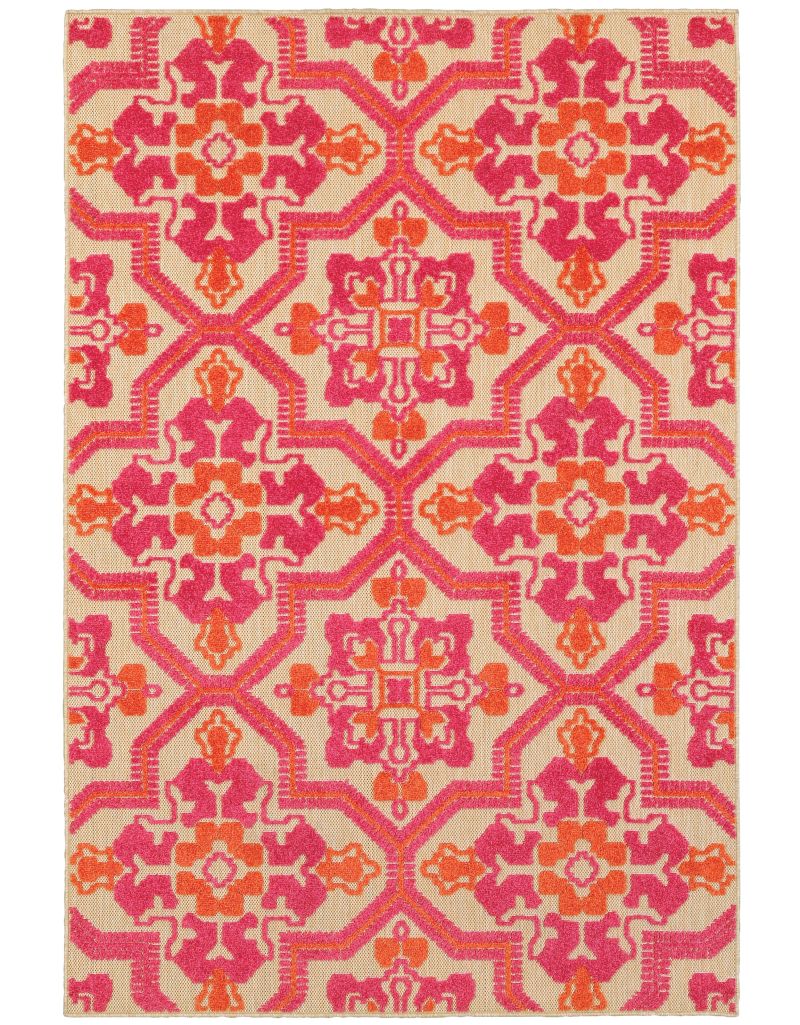 Madcap Cottage Under A Loggia Blossom Dearie
The Madcap Cottage Under A Loggia Blossom Dearie is a bold combination of traditional textile patterns that make this rug truly an eye-catching option for exterior spaces. The multicolor shades in the border frame a botanical tableau of blooming flowers, branches, and leaves in geometric motifs. Durable polypropylene fibers soften hard surfaces while UV resistance keeps it colorful. An exclusive addition to the Madcap Cottage collection, this all-weather rug reflects the brand's commitment to elegance in every environment. Get it here!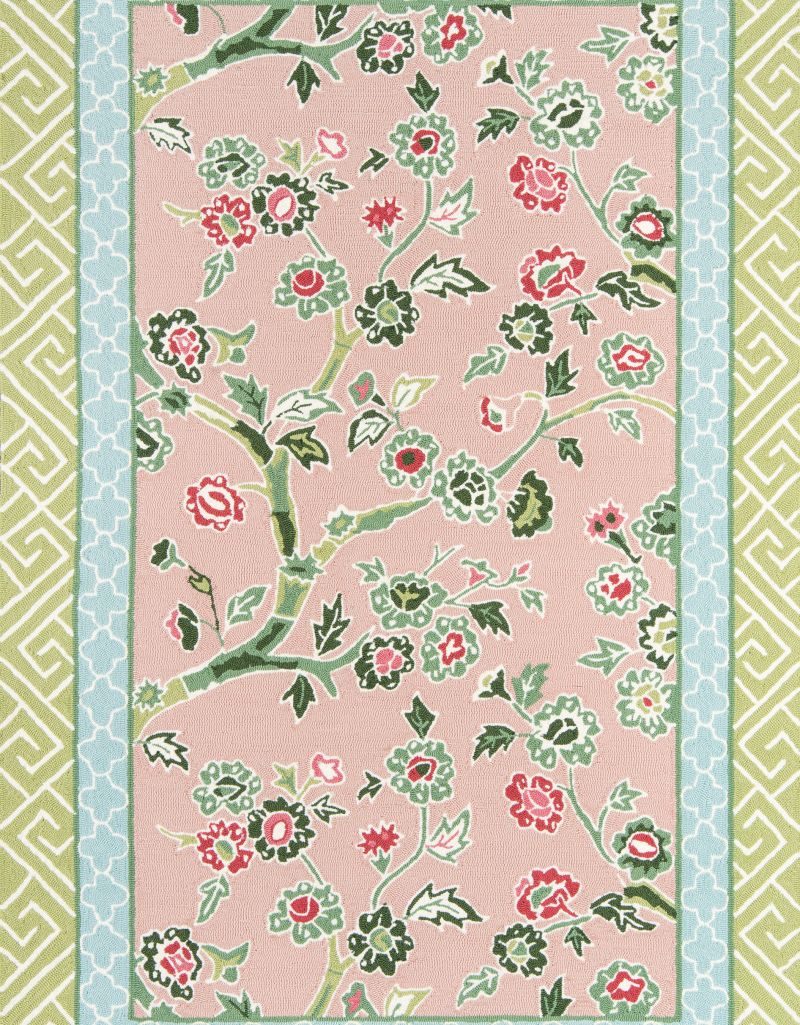 The Tommy Bahama Cabana Collection
This collection will bring tropical vibes to your outdoor space for sure! The collection boasts a colorful space-dyed loop pile for added texture, depth, and dimension. It's the perfect addition to any indoor or outdoor space, and you can shop it here!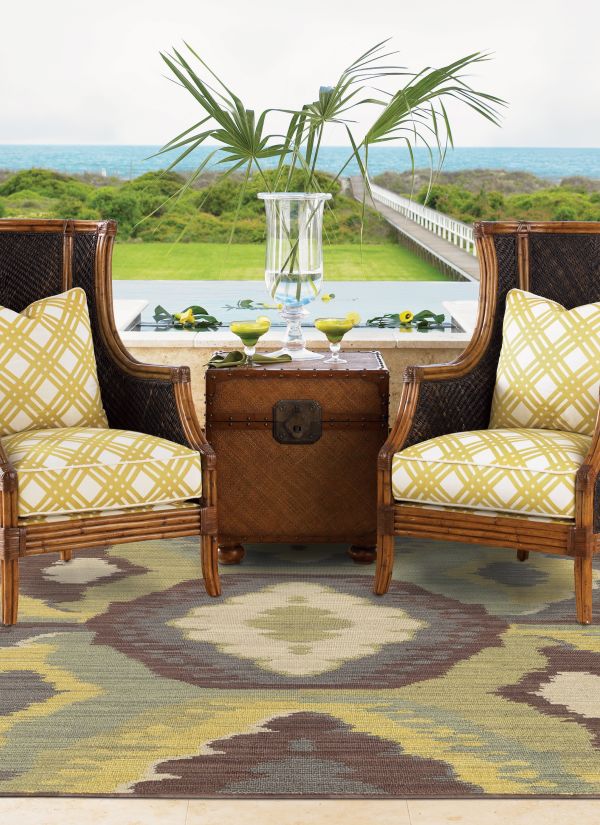 Novogratz 'You Look Good' Welcome Mat
This welcome mat makes a charming addition to your doorway! We love its retro styling, which is perfect for welcoming friends and family members. Graphic color blocking and bold typography lends fashionable flair, and each mat is crafted from sustainable coir fibers. Shop this mat here!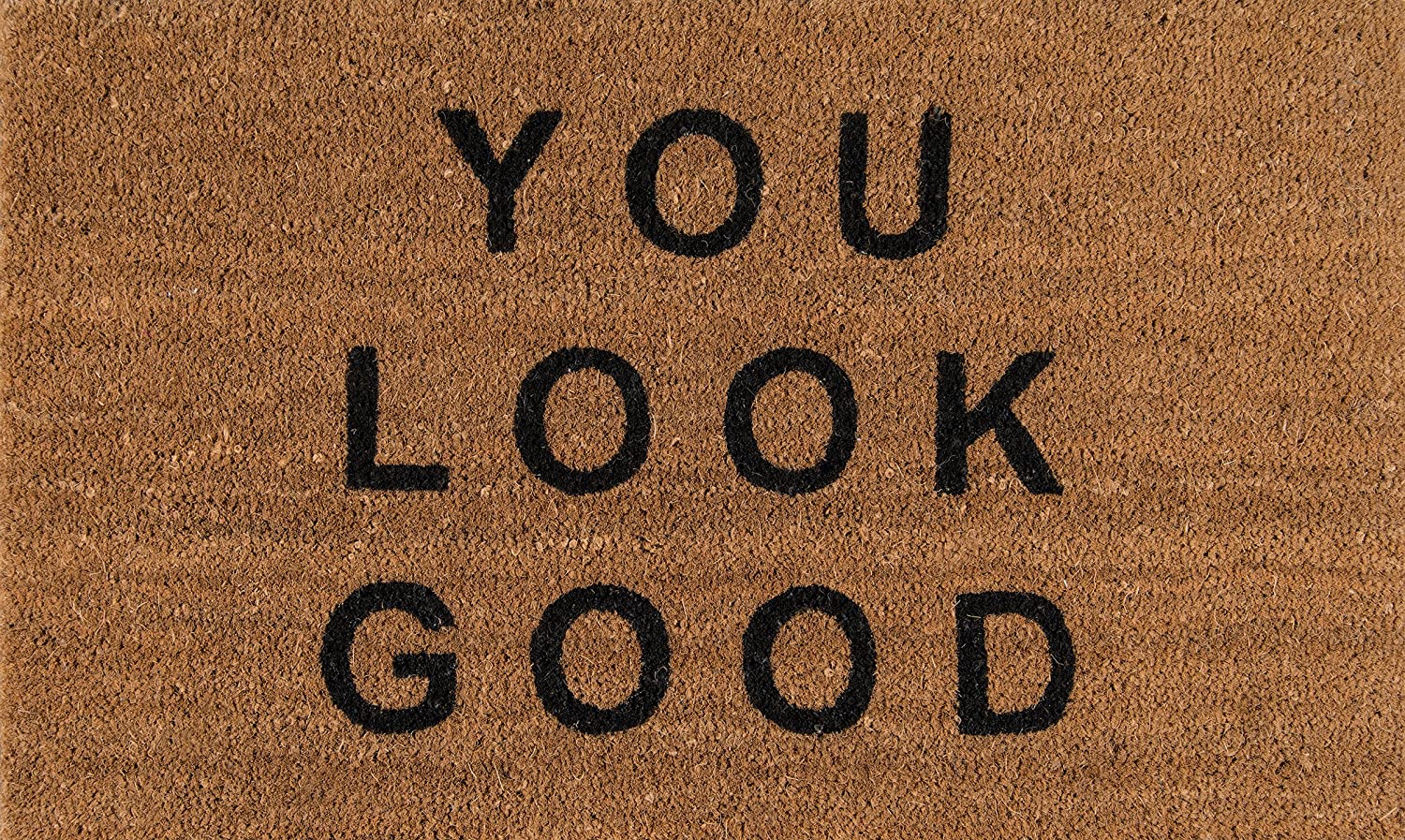 Mohawk Doorscapes Stained Glass Floret Welcome Mat
Opulently dyed blue, green, pink, red, gold, orange, and teal mosaic medallions add elegance to any entryway with this welcome mat. Made from environmentally friendly materials, this doormat from Mohawk is backed with the dependable durability of recycled rubber from used tires. The recycled rubber doormats have a decorative top surface design constructed of polyester flock, which absorbs moisture and easily removes dirt from the bottoms of shoes. You can shop this mat here!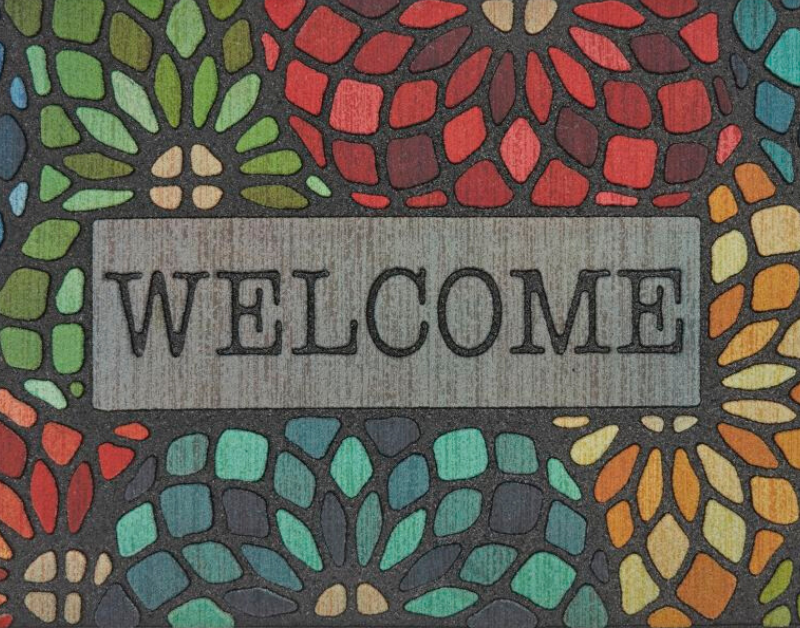 Feeling inspired? Contact us with questions or head over to our ' to find your perfect outdoor rug. You can also visit Warnike in Milan, OH. We look forward to helping you find the perfect rug!